Massage Makes Me Happy & Healthy - A Career in Massage Therapy
Author: Massage Heights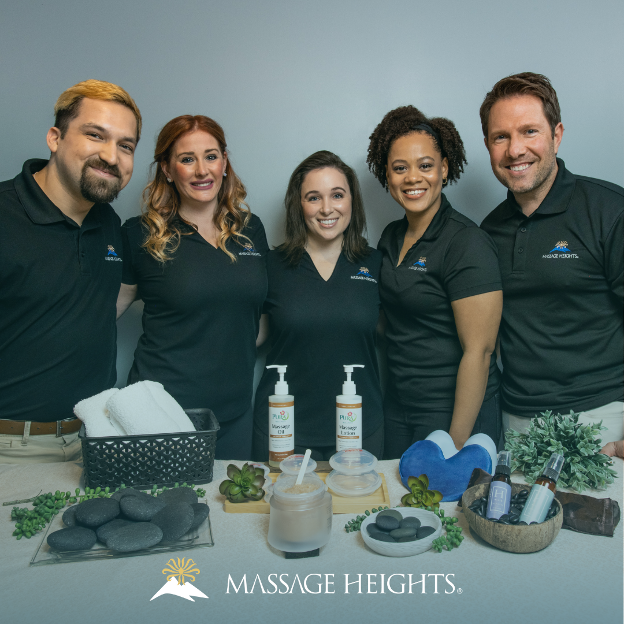 From the hands of early Chinese physicians to massage therapists today, massage has been a natural and caring intervention that supports physical and emotional well-being. In other words, massage creates HAPPINESS.
As a leader in the massage industry, Massage Heights has teamed up with the Global Wellness Institute to keep you up to date on the benefits of massage on March 20, 2023, with the worldwide initiative- Massage Makes Me Happy & Healthy. A day set aside to educate people to the benefits of massage, including what it takes to become a massage therapist.
What makes certain individuals choose a career in massage therapy? What is it about massage that makes people want to pursue massage therapy as a career for a happier life?
It's no surprise that most massage therapists are natural caregivers, often most happy when helping others. From helping those in pain, people recovering from injury, or individuals suffering from stress, massage therapists are at the forefront of today's wellness industry.
In the 2021 U.S. News 100 Best Jobs survey, massage therapy was ranked among the best career paths. Career opportunities for massage therapists are expected to increase faster than average job growth rate over the next several years. The Bureau of Labor Statistics projects that massage therapist employment will grow 20% over the next decade, faster than the average for all U.S. occupations.
Besides speeding up the healing process, improving circulation, and its mental health benefits, massage therapy makes not only the guest happy & healthy but the massage therapist as well. Who wouldn't be happy working with guests to help them live better lives?
Professional massage therapists also find a variety of settings to work, including massage clinics, cruise ships, spas, medical offices, health clubs and sports medicine centers, or private practice.
In a recent study from Career Explorer of almost 3,700 massage therapists across the country, they found common traits among massage therapists :
Predominantly social individuals, meaning that they thrive in situations where they can interact with, or help people.
Massage therapists score highly on social responsibility, indicating that they have a general concern for others.
Many massage therapists often consider themselves creative or artistic.
Found it satisfying to help others.
What it takes to become a Massage Therapist?
There are many professional massage therapy educational programs available throughout the United States. Each school offers its own unique courses and approach, but the coursework usually includes:
Anatomy/Physiology,
Pathology,
Massage Modalities,
Professional Development,
Clinical Internship.
How long does it take to become a Massage Therapist?
Massage therapy educational programs average 6-12 months. During massage therapy school, students will learn a many hands-on modalities and techniques as well as anatomy, physiology, pathology, and professional development.
Every massage therapist is unique in their approach and design of a massage treatment and during the program everyone discovers their own creative approach.
Requirements to become a licensed Massage Therapist
Massage therapists typically need a state-issued license or must register with the state. Requirements vary but typically include graduation from an approved massage therapy program and passing an exam.
Other requirements for massage therapists may include passing a background check, having liability insurance, and being certified in cardiopulmonary resuscitation (CPR).
Many states require massage therapists to complete continuing education credits and to renew their license periodically.
Resources
To learn more about the massage industry join Massage Heights Senior Vice President of Culture and Industry Relations- CG Funk for latest episode of Outside the Room podcast.
For more information about the Massage Makes Me Happy Global Initiative, please visit: The Touch Research Institute, University of Miami, www.miami.edu/touch-research or The Global Wellness Institute, www.wellnessevidence.com, Massage Makes Me Happy, www.massagemakesmehappy.com