Massage Heights Gift Guide
Author: Massage Heights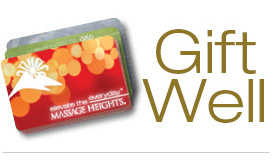 Compiling your gift list for your friends, family and co-workers can be a daunting task. We want to help make it easier with some fantastic suggestions for healthy living from Massage Heights. From the revitalizing skin therapy or massage gift certificate to our Heights at Home products, you can find something for everyone on your list this holiday season! Here are some unique gift ideas for those hard-to-buy-for people on your shopping list.
The Athlete
Have a brother or sister-in-law that runs the marathon or is a biking enthusiast? We have the perfect gift package for the athlete in your life. Give them the gift of relief from sore, tired muscle with one of our TheraPearl ® hot & cold therapy packs. These doctor-designed packs can be heated or frozen to give sore muscles and joints the heat or ice therapy they need to repair quickly. The packs conform to the body, staying hot or cold for the doctor recommended 15-20 minutes that is needed. Also add in Relieve bath salts and sports balm, a refreshing blend of peppermint and rosemary essential oils provide hydration after workouts.
The Busy Mom
Have a sister or niece that just had a baby or has a bunch of little ones at home? Give the busy mom in your life the gift of stress relief she can enjoy anytime. Our proprietary blends of aromatherapy include Relax, Breathe, Energize and Revive, which offer a natural relief for the mom that has her plate full every day. Choose from linen sprays, body butters, bath salts, body scrubs and body milks and many other aromatherapy products made with our proprietary aromatherapy blends.
The Tired Teacher
Do you have a friend or loved one who is a teacher? Give them the luxury of the finest linens to snuggle them into dreamland each night. At Massage Heights, we use Comphy Linens on all our massage and facial tables for their superior quality. We also offer them for sale to bring that luxury home. These linens feel like a 600 thread count but are actually a wonderfully soft microfiber blend.
The Stressed Student
Have a student in your life that is struggling with finals or anyone that has stress in his/her life? Give them the gift of massage therapy with one of our gift cards! Nothing can relieve stress quicker than a relaxing massage with a talented massage therapist. We have Retreats all over the country, in which that busy student can use their massage gift certificate, making it even more convenient for their busy study schedule! They can use the gift certificate any way they choose, for a massage, facial or to buy some of our fantastic skin care or other retail products.
We have something for almost anyone on your list. You can visit one of our many Retreats to purchase any of our in-store products or massage gift certificates. Still not sure what to get? Talk with one of our friendly staff Team Members about the people left on your list- they will be happy to give you some fantastic gift suggestions. Have a happy holiday season and thank you for letting Massage Heights be a part of it!