What is Face Mapping?
Author: Massage Heights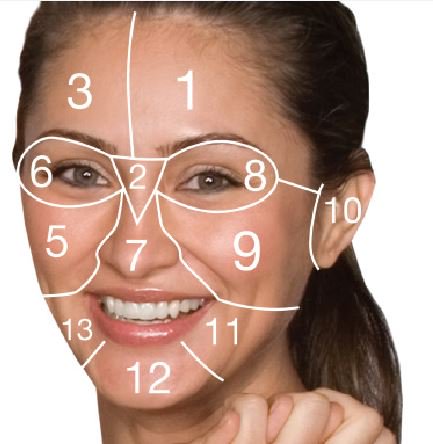 Face Mapping® is Dermalogica's unique skin analysis that provides insight into your skin's past and present, and allows our Massage Heights Licensed Skin Therapists to customize a professional treatment and home care prescription for a healthy skin future.
Developed by Dermalogica, Face Mapping® takes no more than five to ten minutes, is free, and eliminates the guesswork when selecting products for results on your skin.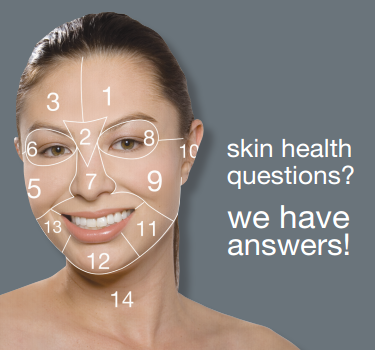 Rather than analyzing the skin in general terms, Massage Heights' Dermalogica certified Skin Therapists uses Face Mapping® to divide the facial landscape into fourteen zones. Each zone is thoroughly examined inch-by-inch through touch and sight, and findings are notated on a prescription sheet.
"Here, at Massage Heights, we're dedicated to the health of our Guests and Members, which is why we're excited to have a partnership with Dermalogica who shares our vision of skin health," said Katherine Palmer, Licensed Esthetics Instructor and Director Industry Relations and Development for Massage Heights. "Face Map Our Nation is a phenomenal nationwide campaign that allows our Skin Therapists the opportunity to share their knowledge, educate and offer real solutions to help both our guests and Members achieve their best skin health."
This prescription sheet serves as a customized visual guide for you, outlining on an actual facial landscape illustration where conditions including congestion, breakouts, dehydration, aging and/or hyperpigmentation are present.

Face Mapping® maintains an accurate record of your skin, which provides you and your Skin Therapist an objective view into the results of any professional product recommendation.
Face Mapping® is only available from Dermalogica trained and certified Skin Therapist which we employ at all our Massage Heights body + face locations.
During the month of October, visit any of our Massage Heights body + face Retreat locations to receive your complimentary "Face Map" skin analysis and to be entered to win one of three Massage Heights and Dermalogica prize packs (*see official rules for details):
Grand Prize – one year Massage Heights Heightened Membership and a year supply of Dermalogica products (value: $1,719.88)*
Second Place – three month Massage Heights Heightened Membership and a $100 Dermalogica gift basket (value: 280.00)*
Third Place – a one hour Massage Heights custom facial and a Dermalogica thirty day kit (value: 105.00)*
We also invite you to attend one of our participating Retreats Face Map Our Nation events. Snap a photo of your map and share it with us -- please include the following hashtags: #AllAboutThatFace #MassageHeights.
Local Events being held:
Saturday, October 17 -- Massage Heights Leon Springs -- San Antonio, Texas -- (210) 687-1112
Tuesday, October 20 -- 5pm - 8pm -- Massage Heights Panther Creek -- Woodlands, Texas -- (832) 900-7788
Wednesday, October 21 -- 3pm - 6pm -- Massage Heights Ames -- Ames, Iowa -- (515) 232-7359
Wednesday, October 21 -- 4:30pm - 6:30pm -- Massage Heights North Hover -- Longmont, Colorado -- (720) 438-7838
Thursday, October 22 -- 5pm - 9pm -- Massage Heights Midtown Houston -- Houston, Texas -- (832) 431-4224
Thursday, October 22 -- 6pm - 8pm -- Massage Heights Shoppes at the Atrium-- Chattanooga, Tennessee -- (423) 933-0200
Saturday, October 24 -- Massage Heights Bandera -- San Antonio, Texas -- (210) 681-7091
Saturday, October 24 -- 11am - 4pm -- Massage Heights Deerfield Crossing -- San Antonio, Texas -- (210) 338-8249
Saturday, October 24 -- 1pm - 3pm -- Massage Heights Wildflower Village -- Gilbert, Arizona -- (480) 632-7529
Saturday, October 24 -- 2pm - 4pm -- Massage Heights Mission Viejo -- Mission Viejo, California -- (949) 699-3803
Sunday, October 25 -- 11am - 3pm -- Massage Heights Irvine-Westpark -- Irvine, California -- (949) 383-5388
Sunday, October 25 -- 6pm - 8pm -- Massage Heights Town Brookhaven -- Atlanta, Georgia -- (404) 647-0278
Monday, October 26 -- 6:30pm -- Massage Heights Johns Creek -- Atlanta, Georgia -- (678) 500-9800
Wednesday, October 28 -- 3pm - 5pm -- Massage Heights Crocker Park -- Westlake, Ohio -- (440) 249 - 6898
Thursday, October 29 -- 4pm - 8pm -- Massage Heights Merle Hay -- Des Moines, Iowa -- (515) 276-7529
Thursday, October 29 -- 7pm - 9pm -- Massage Heights Buckhead -- Atlanta Georgia -- (404) 846-0444
Saturday, October 31 -- 3pm - 6pm -- Massage Heights Stonebridge Ranch -- McKinney, Texas -- (469) 424-0155