Massage Therapy: The Perfect Father's Day Gift
Author: Massage Heights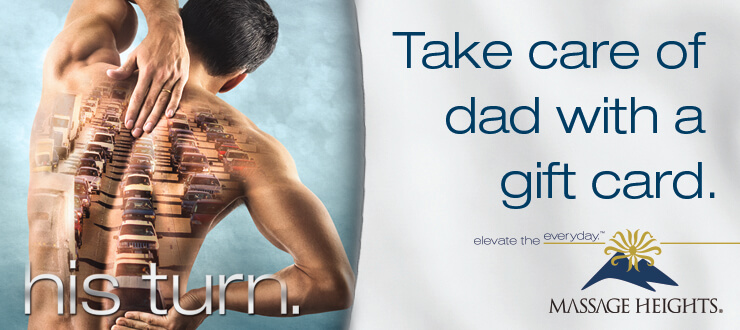 For Father's Day, it can be difficult to decide what to give that man that has given you so much. How can anything you give truly reflect how much you appreciate all that he has done for you? This year, give the man in your life the gift of health and well-being with massage therapy.
Why Massage Therapy is the Perfect Gift for Dad
You want to give your dad a Father's day gift that he can really use and that is personalized for his needs. Skip the new tie or coffee mug and give him a gift certificate for a relaxing massage. Even if he has never tried massage therapy, this is a great way to give him a chance to experience the benefits for himself.
Massage is not just for physical recovery or a way to relax after a long week; it is part of a healthy lifestyle that can improve your overall health and well-being. What better way to tell your dad, grandfather or husband how much he means to you than with the gift of better health? Some of the many benefits of massage include:
Increased physical performance. It is no secret that as we get older that it is harder to stay physically fit. Massage therapy can improve flexibility and physical performance, allowing dad to stay active and healthy.
Lower blood pressure. Cardiovascular health is always a concern, especially for men. Massage therapy helps reduce stress and tension, which helps to lower high blood pressure.
Increased immunity. Help dad stay well all year round with regular visits to one of our Retreats for massage therapy. Studies have shown that massage can help boost immunity and increase well-being, helping dad fight off disease and improve his quality of life.
Increased energy. Give dad the gift of increased energy and vitality with massage therapy.
Massage Therapy Gift Options
At Massage Heights, we know that there is no such thing as a one-size-fits-all massage. That is why we customize our massages to meet our clients' needs. To give the men in your life the perfect Father's Day gift, get them a gift certificate or card that they can use towards a massage specially designed for them. Our licensed Massage Therapists will help design a massage that will best suit his needs and give him the ultimate massage experience. You can trust our professional staff to take excellent care of your dad, making him feel comfortable and relaxed during his visit.
Make Father's Day even more special this year with the gift of massage therapy for your beloved guy. Whether it is your dad, grandfather or husband, massage therapy is the perfect gift to show how much you appreciate them. You can order gift certificates through our website, either with traditional mail delivery or instant email gift certificates. You can also visit any of our many Retreats to pick up a gift card for all the special fathers in your life.