Hot Stone Therapy: Stay Warm this Winter
Author: Massage Heights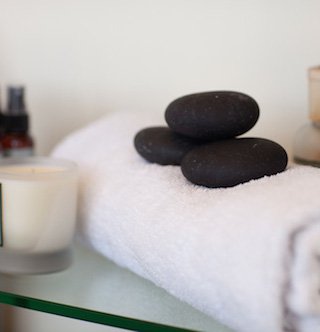 Winter weather got you down? Hot stone therapy is the perfect way to warm up this chilly season. Whether you are prone to cold hands and feet or are just looking for a soothing hour of bliss, hot stone therapy will leave you feeling more at ease and comfortable than ever.
This form of massage uses the heat and pressure of warm, smooth stones to relax the muscles. Massage Heights Massage Therapists are able to concentrate on the deeper layers of muscle tissue that are more difficult to access due to the tension and stiffness that comes with cold weather. The Therapist will use the stones to apply steady pressure to warm muscles, tendons and ligaments. The hot stones will then be placed on specific points of the body including the spine, hands, legs and even under the shoulders to help prepare the body for a deeper more therapeutic massage, available exclusively at Massage Heights. This helps to relieve chronic pain, reduce stress and promote deep relaxation.
This Massage therapy technique has been in practice for centuries and can be traced back to Native American cultures for pain relief and relaxation. The technique has recently seen a renaissance in popularity to relieve those with chronic pain due to conditions such as arthritis, insomnia, or anyone with deep heavy knots and tension. Additionally, the therapy helps to decrease severity of muscle spasms, aids in increased joint flexibility and improves the immune system.
Hot stone therapy will melt away tension, ease muscle stiffness and increase circulation and metabolism. Massage therapy in itself increases circulation due to tissue stimulation. But with the addition of the heat from the warm stones, blood vessels expand, further improving circulation. With increased blood flow, the amount of energy-giving nutrients able to circulate and nourish the body is amplified—bettering your overall well-being and immunity. You will leave the hot stone massage feeling more restored and recharged than ever.
The sedative effect of the hot stone therapy promotes relaxation and reduces tension. When your mind and body is finally able to relax, you will be able to doze off at night much more easily in order to recover from daily fatigue. You deserve some nurturing and above all – some warmth this winter. Request a reservation for a session with our Hot Stone Therapy Elevation today to feel more relaxed and at ease than ever.