Massage Therapy: The Key to Sleeping Easy Tonight
Author: Massage Heights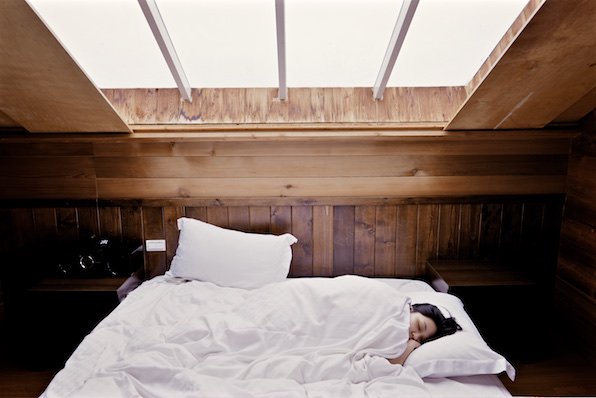 Sleep. There's nothing that can replace a good night's sleep. For healthy function and cognitive ability, a good night's sleep in imperative. Unfortunately, fifty to seventy million Americans do not receive the restorative sleep they need. At one time or another these people experience sleep issues that can lead to dips in work performance, foggy time with the family, weight gain and even substance abuse.
Fatigue and problems with concentration are usually the first to manifest. This affects health and mood, as well as your overall well-being. Treating insomnia has long been done with sleep aids and drugs, but new research shows that you may be able to try a more natural option: Massage Therapy.
Who Can Benefit From Massage Therapy for Sleep Disorders
If you are one of those fifty to seventy million Americans that find themself suffering from chronic insomnia, Massage Therapy may be your answer. People who sleep less than eight hours per day experience what is known as sleep debt something that cannot be made up for by sleeping in a little on the weekend. A full eight hours every night is important to keep your health optimal.
In addition to good nutrition and exercise, stress related insomnia can be alleviated with massage. Other conditions that contribute to poor sleep may benefit from Massage Therapy include headaches, anxiety, digestive disorders, nerve pain, fibromyalgia, spots injuries and soft tissue sprains to name a few.
Massage Can Improve Your Sleep Quality
Massage Therapy is not just a luxury -- in research gathered by the American Massage Therapy Association, massage has been shown to improve sleep on a chemical level. Massage reduces the stress hormone cortisol, which is constantly telling the body it's time to wake up. At the same time, massage increases the neuro-hormone serotonin. This feel-good hormone is the precursor to melatonin, which is the brain's cue to quiet down and prepare for sleep. The more serotonin that is released in massage, the easier and quicker you can drift off into sleep at night. Additionally, massage increases delta brain waves, which are linked to deep sleep. Not only will you fall asleep quickly, but massage will help you stay that way.
Don't think of massage as a one-time treat, an indulgence, or a reward for a tough week. Regular massage truly elevates your everyday life, helping you sleep better, and in turn be a better you.
Request a Reservation for your Massage Therapy appointment online or stop by one of our retreats today. Massage Heights is here to help you live a better, healthier life.